I'm going to be honest, I have become extremely bored with my hair over the past couple years. I would wash, blow dry, and then straighten my hair. I used every type of volume product possible to add some kind of body to my thin, fine hair. This went on for many years, never really knowing what year or age I was by looking at pictures. I did the same routine over and over. I wanted a change so I started to just let my hair grow.

About a year ago I began doing some research into product ingredients. I started to understand what synthetic ingredients and silicones were doing to your hair. Silicones weigh hair down by coating the hair, locking out moisture and making the hair dull. It is basically a plastic coating on the outside of our hair. Now if you want straight hair, this isn't such a bad thing. But if you are wanting natural healthy hair, this is not the best thing. You need to eliminate silicones, parabens and sulfates to allow your "true" hair to come through. Once you remove them, you are able to nourish and strengthen your hair with natural ingredients.
I found a product line, Inner Sense Organic Beauty, that utilizes natural ingredients to nourish, repair and replenish your hair. I loved what the company stood for, loved that their products did not contain silicones, sulfates or paraben, so I decided to place an order. They recommend using their products strictly for 2 weeks to remove synthetic ingredients from your hair, allowing for pure hydration and nourishment to happen. I began using the products, it was an adjustment at first because they are heavily concentrated. I was using half of the shampoo I was used to using and making sure I was adding water to my hair as I was shampooing and conditioning so I could distribute the product properly. Around day 7 of shampooing, I noticed my hair felt like straw. I now knew the silicones were finally off of my hair and my true hair was being exposed. I continued using the products to let the natural ingredients nourish and condition my hair. By day 10 my hair was super soft, shiny and texture was starting to come out. Here I was with a hidden wave pattern I have coated with silicones my entire life. I was going to dive head first into figuring out how to manage this new hair I had uncovered.
The curly, well let's call it wavy method I wanted to embrace was a whole new ball game for me. In school, you are taught to flat iron curly hair and cut it while it is straight. Or you are told to cut it just like straight hair, it will know what to do. This to me is just a lack of knowledge and understanding. I would always get nervous if a curly client would say "I'd like to leave curly" because I didn't know what to do. I had heard of the curly girl method, but it wasn't on my radar previously so I never really looked into it. I decided to order the Curly Girl Method book by Lorraine Massey and got to reading. Here I am over 15 years into my career as a hairstylist and I am reading a book on how to take care of curly hair. This was such a life lesson for me. We are never too old, too young, too proud or too smart to learn something new. All I could think about was styling curly hair, trying a new technique or telling my clients about letting their natural wave pattern come back. I was on a new path for my career, and my hair.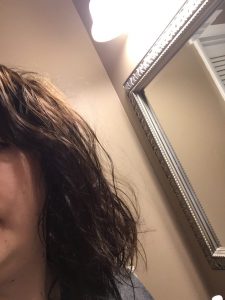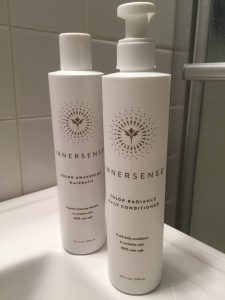 My new "textured" hair after 2 weeks of using Inner Sense.