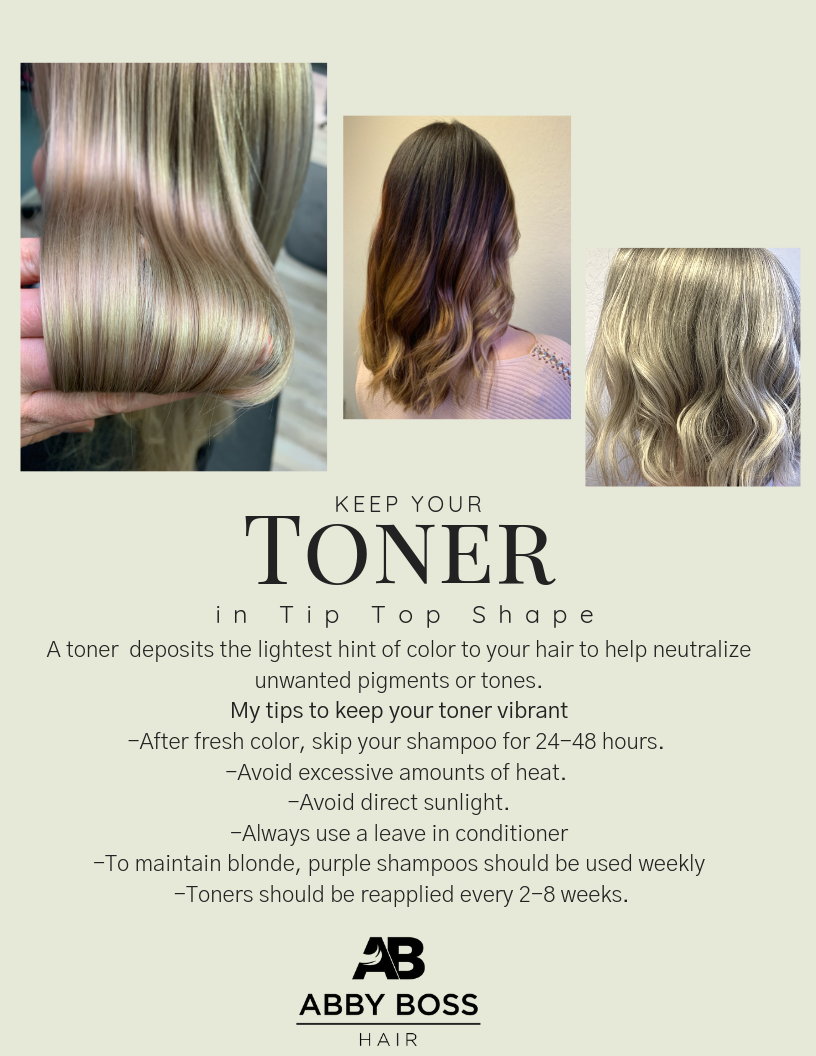 With lived in color being such a trend right now, you will often hear the term toner, glaze, overlay or gloss being used in the salon. But what does it mean and why do you need it?
A toner deposits the lightest amount of color to your hair to help neutralize any unwanted pigments or tones. Anytime you lift the hair to get a lighter color, you are exposing underlying pigments. These pigments are not necessarily your desired tone. So we have to counteract it with a toner. A toner is usually done on wet hair and it processes anywhere between 5-20 minutes.
The benefits of a toner are:
-neutralizing unwanted tones
-incredible shine
-seamless blend between colors
You've spent the time and money to get your hair just right, now how do you maintain a toner.
Tip #1- Once you leave the salon try to not shampoo for 24-48 hours. This allows the cuticle to slowly lower and lock in the color. Anytime you shampoo right away, you are causing the cuticle to raise slightly, exposing the pigments and allowing them to wash away. The longer you can go the better. Also always use a sulfate-free shampoo. Don't worry, I can recommend a few great products to help you get from shampoo to shampoo.
Tip #2- Avoid excessive amounts of heat by limiting blow drying and hot tool styling. Every time you add heat to your hair, you are expanding the cuticle which agitates that layer of the hair. This can cause color to fade and dry, brittle hair.
Tip #3- Try to avoid direct sunlight. Our skin tans when we are in the sun and our hair tends to lighten in the sun. Sitting in the sun for hours at a time without a hat or even an umbrella will cause your hair to naturally lighten, and pull out the color molecules that the toner placed in the hair cuticle. Go out and get a cute hat, head scarf or take along an umbrella!
Tip #4- Always using a leave in conditioner which helps close the cuticle down, sealing in the toner. This will also maintain shine, help with detangling and keep hair moisturized.
Tip #5- Use purple shampoos, conditioners or styling agents to help maintain that fresh from the salon hair color. These products will help deposit a slight amount of pigment to your hair to control brassy or yellowy tones. I can help recommend a great group of products to use at your appointment with me. But until then, my favorites right now are Milk Shake Silver Shampoo, Conditioner and Whipped Cream.
At the end of your service, we will determine when it is best to come back in and freshen up your toner. It can range between 2-8 weeks.
By incorporating these tips into your daily hair routine you should be able to increase the longevity of your toner. Comment if you have any questions!