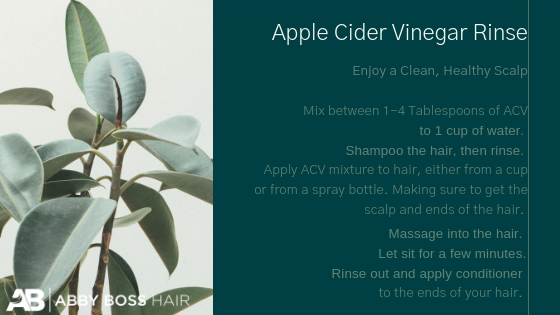 Did your Grandma ever tell you to wash your hair with Apple Cider Vinegar? I can remember thinking, "Yuck!" Fast forward 25 years and I am doing it on a monthly basis!! Why…..here's the benefits I have found:
-helps breakdown buildup
-anti fungal and anti bacterial properties. This helps with any flaking you may have on your scalp.
-helps oily scalp
-helps in transitioning from not shampooing daily
-a clean scalp = a clean follicles which will help strengthen the hair root which in turn promotes hair growth!
-seals cuticle to lock in color
-exfoliates the scalp
This rinse is going to be adjustable based on your needs for your scalp and hair. A good starting ground is to mix:
1-4 Tablespoons of ACV to 1 cup of water
You can add it in a squirt bottle, cup, or spray bottle to make the application easier. Then you will shampoo your hair, rinse, then apply the ACV rinse. Make sure to get it on scalp and ends. Rub it into your hair and leave on for 1-2 minutes. Rinse. Follow up with a conditioner.
Make sure to use the apple cider vinegar that contains the "mother" in it. This type contains nutrients and enzymes that contribute to its many different benefits.
Try incorporating this into your hair routine once a month to keep the buildup under control. If you are struggling with oily scalp then try doing this every 4-5 shampoos until your scalp settles down. If all of this is too much to start with, I can recommend a great product that contains ACV in it.